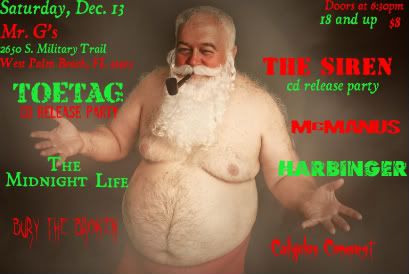 City: West Palm Beach
Years Active: 2008 - Present
Type of Music: Hardcore
Myspace or Website:
http://www.myspace.com/toetag561
Just a heads up that John Wylie's new band, Toetag, is releasing a split CD with New Jersey's Shattered Realm and is set to be released tomorrow (December 9th). A quick bit about the band courtesy of Eulogy Recordings:
"Toetag formed in April 2008 by Eulogy owner and former member of Until The End and Morning Again, John Wylie. Toetag plays straight forward hardcore that will appeal to fans of many different genres. Toetag also includes ex members of Glasseater and Remembering Never."
Their CD release show is this Saturday at Mr. Gs in West Palm Beach. Check the flyer above for info.
They will be playing on December 27th. Heres the info:
Thick As Blood
Trust No One
Bishop
FATE (Five Across The Eyes)
Toe Tag
Rawvia
Handgun
Knock Em Dead
2 pm
$10 billz
Drakes
13754 sw 88th St.
Miami, FL
You can order the CD here:
http://www.districtlines.com/11130-Toetag-Shattered-Realm-CD/Eulogy/