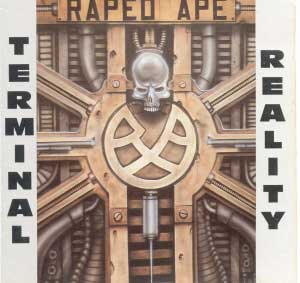 City: Ft. Lauderdale
Years Active: 1998 - 1996
Type of Music: Metal
Myspace or Website:
http://www.rapedape.net/
Taken from the Raped Ape website:
Raped Ape was one of the most popular and respected bands, signed or unsigned, to emerge from the legendary Florida metal scene of the 1990s.
The group gained a worldwide following with four crushing cassette and CD releases between 1990 and 1994, including the acclaimed 1993 album Terminal Reality. Released independently in the U.S., the disc was licensed to labels in Germany and Japan, where it made the Top 30 metal charts.
In its Sunshine State stomping grounds, Raped Ape's raging live shows were incendiary. The band's following was so large and devoted, it's musicianship and sheer intensity so overpowering, most local bands refused to play after them (but begged to play ahead of them). And many touring bands requested the West Palm Beach area group open for them in Florida. Raped Ape shared the stage with more than 30 national acts, including Sepultura, Biohazard, Carcass, Death, Entombed, Morbid Angel, Machine Head and many more.
Word of the powerful band with the odd name spread near and far. The group was featured in the pages of such national and international magazines as Details, Billboard, Guitar World, Rip, Metal Maniacs, Metal Forces and Metal Hammer.
In Florida, the accolades seemed to never stop. Raped Ape was the only band to be honored at the state's four major rock awards shows (Florida Jammy Awards, Tampa Bay Metal Awards, South Florida Rock Awards and South Florida Slammie Awards). The group snagged multiple trophies and performed regularly at these events alongside such notable bands of the era as Marilyn Manson and The Mavericks.
Raped Ape was invited to showcase three years in a row at the Southeast Music Conference in Tampa plus made appearances at Miami Rocks Too and the New South showcase in Atlanta, gaining praise from major labels such as Interscope, Geffen, Atlantic, Capitol, EMI, EastWest and Atco.
In the days before the Internet and digital downloads, Raped Ape spread its music far and wide the old-fashioned DIY way. It sold thousands of CDs, cassettes and a wide range of merchandise at its shows and retail outlets throughout the state. Its Primal Horde fan club boasted more than 1,000 members, all of whom received a professionally designed newsletter.
Most importantly, Raped Ape was able to live up to the hype with its ferocious, uncompromising music of stunning strength and conviction. Always moving forward and expanding its vision, the band never rested on its laurels. While keeping its signature sound, the group was able to morph and change its style with each new release - from the speedy thrash of Perpetual Aggravation to the technical brutality of Terminal Reality to the heavy groove of its later releases.
For all its achivements, however, Raped Ape fell short of the brass ring. Through a combination of bad timing and its own integrity, fame and fortune remained elusive. When the bottom fell out in the mid-'90s and metal music died a quick and painful death, the band refused to surrender. Although changing its name and musical approach may have assured it a record deal, Raped Ape stuck to its guns and refused to compromise.
It was not until 1996, some eight years after the band's original vocalist named the group after an old mechanic's saying, that Raped Ape finally relented and became Paingod. A full-length album was recorded but the band's label sat on the the disc for a year. Much changed during that time. By 1997, the underground metal scene had dwindled and was about to hit rock bottom. The four band members all had moved on to new projects. With its pride still intact, the group called it quits, despite offers to reunite for a European tour.
Anything the band would have done at that point would have been anti-climatic. The late '80s and early '90s were a special time for Florida metal and underground hard music in general, never to be duplicated.
Despite its demise nearly 10 years ago, the band's influence continues to be felt throughout the South Florida scene. Raped Ape and other bands of its era paved the way for the robust all-ages scene that thrived into early this decade and continues on a limted level today. Bands with the same wide-ranging vision such as Nonpoint (drummer Rob Rivera was a member of the Primal Horde fan club as a teen in Puerto Rico) and Poison the Well followed immediately in Raped Ape's footsteps and put South Florida's hard-music scene on the national map.
It could even be argued that Raped Ape was one of the first bands to use death metal backing vocals, or to combine highly technical musicianship with hardcore - both staples of today's newly burgeoning hardcore/metal scene.
Now, midway through the first decade of the 21st century, a new breed of young bands is rising up to carry the torch and bring uncompromising, inventive metal back into the spotlight. It's the perfect time to look back and salute one of the pioneering bands of the past ... the one and only Raped motherf**king Ape.
Raped Ape - In Ape We Trust
http://www.mediafire.com/?misay0uypx0
Raped Ape - Perpetual Aggrivation
http://www.mediafire.com/?ml0zjlgmvuq
Raped Ape - Demo 94
http://www.mediafire.com/?bm5yx2m3r3x
Raped Ape - Terminal Reality
http://www.mediafire.com/?w42lz3ei0dn